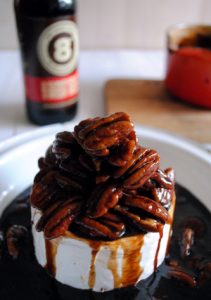 This recipe has been kindly donated to us by food journalist, Caroline Hennessey. It works as an impressive starter or party appetizer. Or, as Caroline suggests, why not have it instead as an after-the-kids-go-to-bed feast for two, in front of a roaring fire.
Ingredients:
1 individual Cooleney Brie, approx 200g
75g dark muscovado sugar
3 tablespoons Eight Degrees Sunburnt Irish Red Ale
50g pecans, toasted
Freshly ground black pepper
Method:
Preheat oven to 200°C/180°C fanbake.
Put the brie in an ovenproof dish and cut a cross into the top of the rind. Put it into the oven and bake for 15-20 minutes until the cheese is soft and runny in the middle. Remove from the oven.
Meanwhile, put the sugar and ale into a heavy based saucepan and melt the sugar over a medium heat. Simmer for 4-5 minutes, until syrupy. Add the pecans and stir well. Add plenty of coarsely ground black pepper and remove from the heat.
Pull the cut rind back from the top of the warm cheese, pour the caramel sauce over and dive in!
Serve warm with warm crusty bread or cheese crackers, thin slices of pear or apple - and teaspoons. Serves 4 Or 2.
Caroline Hennessy is a journalist, broadcaster and Ballymaloe graduate who started her award-winning food blog, Bibliocook: All About Food, in early 2005. Together with Kristin Jensen she set up the Irish Food Bloggers' Association in 2010. She works in broadcasting, print, online and writes for the McKenna's Good Food Guides. She is also a member of the Irish Food Writers' Guild and is devoted to exploring the intersecting worlds of Irish craft beer and fine Irish food.