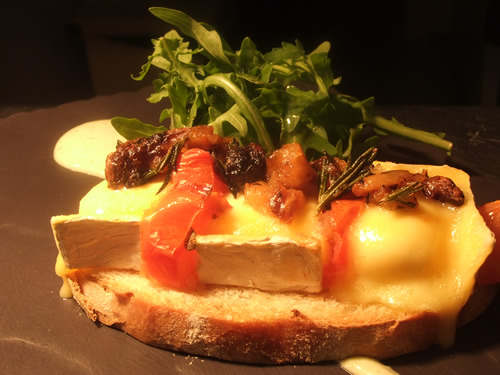 You will need:
4 thick slices of white soda or sourdough bread
400g Cooleeney camembert
8 garlic cloves
1 good sprigs of rosemary chopped
50ml Irish organic rapeseed oil
4 ripe tomatoes cut in 1/4, semi dried with chopped thyme,
salt, brown sugar under a warm grill for 2 hours
Fresh rocket.
For the Basil aioli:
100ml mayonnaise
juice 1 lemon
100g fresh basil
Method:
First, pre-heat the oven to 190'c,
Place the peeled garlic cloves on a roasting tray, sprinkle with a tbsp rapeseed oil rosemary & a little sea salt, roast in the oven until golden brown, about 15mins, allow to cool
When cooled chop the garlic and mash it to a rough consistency, and add the rest of the rapeseed oil and set aside.
Blend the basil & lemon juice with the mayonnaise in a food processor, set aside.
Cut the Cooleeney into 25g cubes
Take the slices of bread, and spread the garlic & rosemary paste on the bread,
Line 4 cubes and 4 tomato slices on the bread for a lunch, or 3 of each for a starter, drizzling more of the garlic & rosemary oil (depending on how much you like garlic!)
Bake in a pre-heated oven for 7mins at 220'c until the bread is golden and cheese melted,
Drizzle the plate with the basil aioli, garnish with fresh rocket, and hey presto!