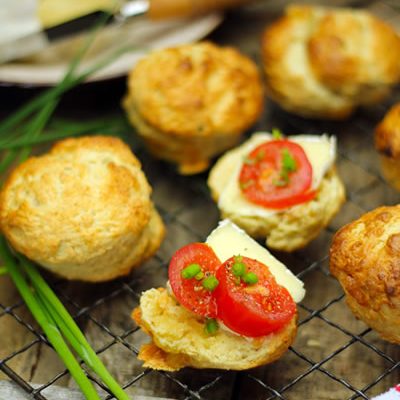 Ingredients:
450g/1lb plain flour
1 teasp baking powder
25g/1oz caster sugar
100g/4oz butter
250mls fresh milk
100g/4oz Darú Cheese, grated
1 tbsp chives, finely chopped
For Glaze: 
Egg wash - some beaten egg with a little milk
Method:
Preheat the oven to 200°C/400°F/Gas mark 6
Sieve all the dry ingredients together into a large mixing bowl and mix well with a wooden spoon.
Add the butter and toss in the flour mixture. Rub in the butter until it resembles breadcrumbs.
Stir in the grated Darú and finely chopped chives.
Make a well in the center of the mixture and add the milk to the dry ingredients.
Mix together with a wooden spoon, then use your hands to make a soft dough.
Turn dough out onto a floured board. Wash and dry hands. Knead lightly- not too much as the scones would become tough. Roll out the dough and cut out using a circular cutter.
Brush the tops with the egg wash.
Bake in the oven for 10-12mins until golden brown. Remove and cool on a wire tray.
Serve with a nice chunk of Darú, sliced tomatoes and some finely chopped chives.
This recipe was created by renowned Irish Food Blogger, Nessa Robbins for our first ever newsletter in April 2012.